Best Pillows for Neck Pain
Cervical Support and Therapeutic Foams
The purpose of a bed pillow is to provide support for your head and neck while you sleep. Your body contours while lying down indicate need for a pillow, for most sleepers. Your neck is one of the most at risk for strain and pain while sleeping, which will quickly keep you awake at night and subsequently fighting insomnia symptoms. When a run-of-the-mill pillow won't relieve a stiff neck, you can choose from a wide array of pillows specifically designed for your neck comfort.
Types of Pillows That Relieve Neck Strain
Pillows typically designed to relieve neck strain and provide support while you sleep come in popular roll and U shapes. For travelers the U-shaped pillow offers comfort and support while it also stays in place, cradling your neck and the back of your head.
Shaped pillows
Memory foam pillows
Orthopedic and Therapeutic Pillows
Orthopedic and therapeutic pillows do more than just provide support. These products purport to form fit to the stress and pressure points in the neck area that cause the most trouble during sleep.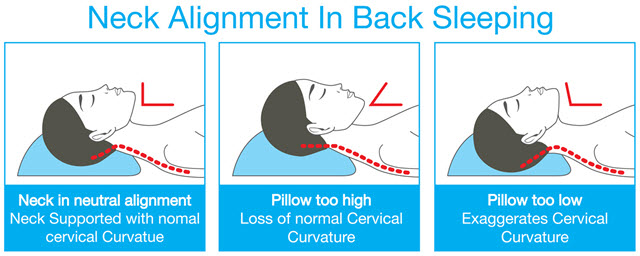 The area at the back of your neck is known as the cervical area of the spine. It is subject to the most stress and strain especially while sleeping. Pain contributes to sleep disruption while can lead quickly to insomnia symptoms.

Cervical neck pillows are often designed based on clinical sleep studies and are designed to ergonomically support this pressure sensitive neck and spine region.
TempurPedic Neck Pillow Fights Even G-Forces
The brand-name TempurPedic is one of the most recognizable in the sleep industry chiefly for its line of orthopedic mattresses. But the company carries an equally popular line of pillows manufactured from the same space-age materials as its mattresses. The TempurPedic Neck Pillow is formed to support the sensitive pressure points of the neck, in a unique "dual-lobe" shape that contours to your shoulders and neck. The material is a soft, but dense and moldable, foam—visco-elastic-- that is unlike any other product on the market. The neck pillow forms perfectly to the line of your head and neck and is firm enough to deliver the support needed to relieve strain and pain without feeling as though you're sleeping in a rubber mold.
The TempurPedic Neck Pillow also comes in a travel size and is the same originally designed for the NASA astronauts to fight the G-Force strain on their necks. These pillows cost anywhere from the $90 to $130 range new, but some lesser known brands like Sleep Innovations have also garnered strong reviews of their contour pillow from Amazon.com customers & are available for nearly $100 less.
Tips for Buying a Neck Pillow
Keep these few factors in mind when you set out to buy a neck pillow:
Materials—soft, supportive, hypoallergenic
Suitable for back, side and stomach sleepers—not all pillows are made the same.
Make sure you get a pillow that best fits your most usual sleep posture.
Washable covers
Anti-mite, anti-microbial materials
Type of lifetime, or how long it will last.
These Things Helped Me Sleep Well