Body Pillows
Help for Insomnia and Sleep Disturbance
Overstuffed body pillows may be comfy, but they have a lot more going for them than sheer hug-ability when it comes to sound sleep. Sleep disruptions and insomnia can stem from a huge array of factors. Physical pain, such as that associated with a medical disorder, PMS, pregnancy, restless legs syndrome, fibromyalgia and more, can make it difficult to go to sleep, stay asleep and otherwise get a solid night's sleep on a consistent basis. Ever tried stuffing extra pillows under your knees or hugging a spare pillow for additional comfort and support? This is essentially what a body pillow does but on a bigger scale.
Body pillows have been purported to help you sleep better by doing this:
Relieve leg, hip and shoulder strain
Relieve spinal strain
Allow you to sleep in more therapeutic positions
Support your neck
Allow muscles to relax more completely, increasing circulation.
Additional features include:
Shapes range from body-length over-filled pillow to C-shaped and candy-cane shapes that support your body all over
Hypoallergenic fill, covers, and anti-allergen materials free from dyes
Fillers, such as natural down and feather, buckwheat, organic fiber-fills, synthetic fiber fills
Foams including traditional and memory foam
Additional materials that promote sleep, such as aromatic herbs
Lower quality straight body pillows which are 54 inches long and 20 inches wide are available for as little as $15 on Amazon.com. Premium memory foam models made in the United States like the one pictured below cost closer to $75.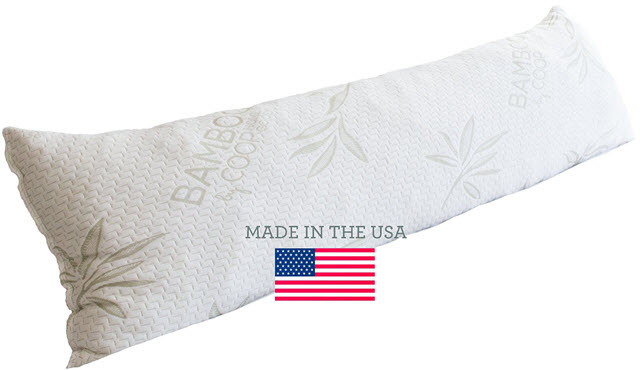 Be aware most of the cheaper pillow options do not come with an associated pillow case, which can be hard to find separately given their unique size.
For quirky types, cartoon lovers and anime fans there are custom body pillows and pillow cases available on sites like Amazon and eBay costing between $15 to $30, though it is worth noting some of the dakimakura "hug pillows" may have a weird sexual motif to them!
Special Body Pillows
Some sleepers suffer temporary insomnia and temporary discomfort, which indicates the need for a body pillow. Pregnancy makes for particularly challenging sleep and a whole market for pregnancy body pillows has been born. Maternity pillows fall into the more U-shaped or loopy styles and provide an allover benefit: support for legs and hips, lower back, belly, arms and shoulders, and head and neck.
Heated and Massage Body Pillows
Some manufacturers have gotten savvy with the features and loaded ultra-comfy body pillows with heating coils or gentle massage mechanisms. Heated pillows help give you extra warmth if you occasionally wake up cold or have problems with cold feet. And massage pillows provide gently vibration that can soothe you to sleep and help sore and tight muscles relax.
These Things Helped Me Sleep Well